ICT2015 – Innovate, Connect, Transform was held on the 20-22 October in Lisbon, Portugal. The 3-day event is EU's biggest digital research event in 2015. It attracted more than 7000 ICT professionals. D-CENT was showcasing its tools in the exhibition area among around 100 best-in-class results of European ICT Research & Innovation projects. Forum Virium Helsinki is one of the D-CENT partners, running the project's dissemination and piloting in Helsinki.
The conference discussed how to make a fully digitised economy and society a reality in Europe. The programme was opened by Günther Oettinger (European Commission, Germany) together with Anibal Cavaco Silva (President of the Republic of Portugal), Francine Closener (Ministry of Economy, Luxembourg) and Hans-Olaf Henkel (European Parliament, Germany).
The most relevant initiative to strengthen the position of Europe in the digital economy, the Digital Single Market Strategy, was the focus of the discussions.
"We need a common digital market, not just in Europe, but with the world, based in standards," said Hans-Olaf Henkel.
The ICT2015 comprised a number of parallel activities:
A policy conference presenting the new Commission's policies and initiatives on Research & Innovation in ICT (Horizon 2020 Programme)
An interactive exhibition showcasing the best results and impact of most recent EU ICT Research & Innovation
Several networking and funding opportunities
The Startup Europe Forum
According to Günther Oettinger, EU has earmarked almost 3 billion euros for 2016 and 2017 in the Digital part of Horizon 2020. Around 1.1 billion will go to major public-private-partnerships in 5G, big data, robotics, photonics, micro-electronics, manufacturing technologies and high performance computing. At least 20% of the budget is expected to go to SMEs and startups.
At the exhibition area…
D-CENT was showcasing in the exhibition area among around 100 best-in-class results of European ICT Research & Innovation projects. The exhibition focused on innovation and creativity (Innovate), people and the digital society (Connect), industry, business and the digital economy (Transform).
The booth in the Innovate area was busy with interested people wanting to know more about the project. With the new tools page D-CENT offered a glance of:
What D-CENT can be used for?
Why people should use D-CENT?
Where can I see D-CENT tools in action?
See the tools page here: http://tools.dcentproject.eu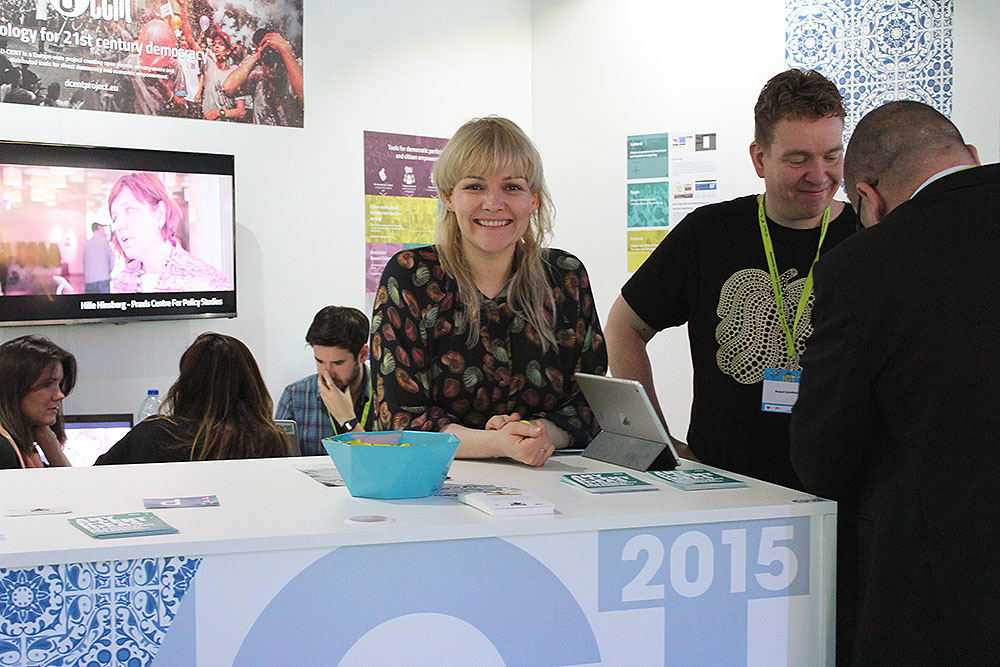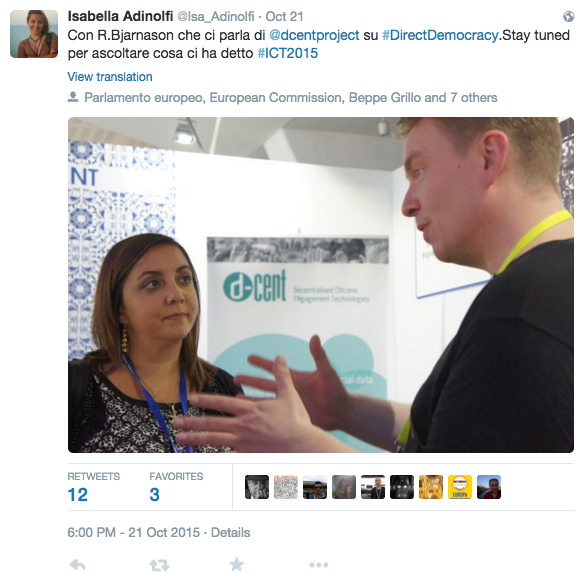 Sessions with D-CENT
In the conference programme D-CENT partners participated two sessions: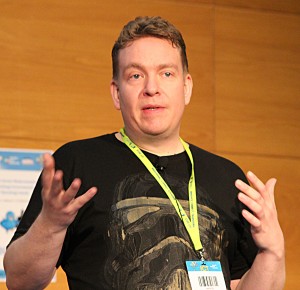 The session "Public Sector Modernisation: Open(ing) Governments, Open(ing) minds" discussed how an open government engages civil servants and third parties that share, re-use and link opened data and services to create new services. A fully open government will change the role of public sector.
The session, moderated by Christine Leitner (Center for Economics and Public Administration (CEPA), included speakers from Estonia, Iceland, Netherlands and Portugal: Aet Rahe (Estonian Ministry of Economic Affairs and Communications, State Information Systems Department, Estonia), Róbert Bjarnason (Citizens Foundation), Sandra Van Wijngaarden (Geonovum) and Pedro Silva Dias (Agency for Administrative Modeenisation).
Róbert Bjarnason from Citizens Foundation, Iceland, spoke about D-CENT and Better Reykjavik. Both enable citizens to participate online, and to take part in the democratic processes.
"We should embrace open source, open services and digital commons in EU," Robert stated.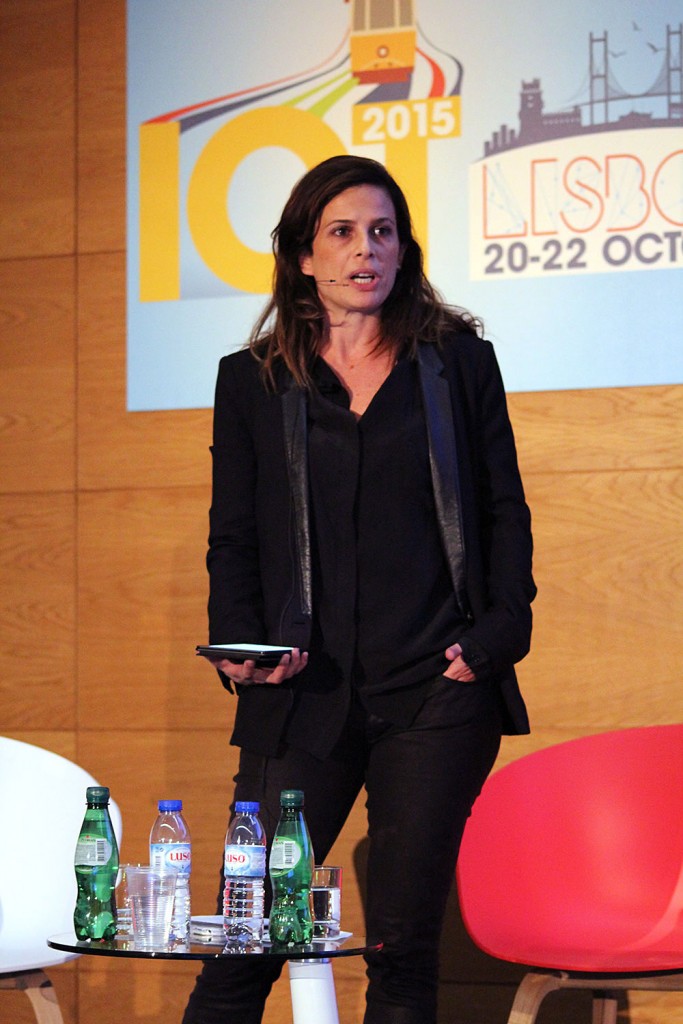 The session "Sustainable environments: an age-friendly approach in a smart city" dived into how sustainable approaches for smart cities and environments need the buy-in of citizens, viable business models and sound data solutions. How to ensure conditions for innovations in urban living, health and demographic change, through the definition and consolidation of standards, interoperability of connected environments, market stimulation and European certification?
The discussion was moderated by D-CENT coordator Francesca Bria (Nesta). The speakers were Alexander Peine (University of Utrecht, Copernicus Institute of Sustainable Development, Netherlands), Maria Sangiuliano (European Centre for Women and Technology, Norway), Ad Van Berlo (Smart Homes, Netherlands) and Graça Fonseca (Municipality of Lisboa, Portugal).
View highlights from the conference:
Day 1: https://storify.com/elenaArraez/day-1-at-ict2015
Day 2: https://storify.com/elenaArraez/day-2-at-ict2015
Day 3: https://storify.com/elenaArraez/day-3-at-ict2015
See the promo video of ICT 2015 here: https://www.youtube.com/watch?v=fFCnfwsFAAM